The Apple Pan
10801 W. Pico Blvd, Los Angeles, CA, USA
The Apple Pan is one of those places where the food is terrific and the ambiance is perfect, but the process of eating there makes you enjoy the food and the ambiance a little less. It's not alone in that regard, as far as long-running L.A. institutions go—their inherent charm makes them popular enough with tourists so as to be kind of a pain in the ass for locals.
The centrally-situated west L.A. location of The Apple Pan probably exacerbates this aspect, since it's so convenient to drop by on the way to the beach or the mall, as opposed to having to make a specific trek out to the east side or what have you.
If it's open, it's busy. The tiny dining counter only seats about 20 or so folks at a time, so there are always people lining the walls waiting for a seat. This creates a certain feeling of pressure for everyone involved—those already seated, those waiting, and those working. Or maybe it's just me. Ever since I heard about pressure, first from that Billy Joel song and then from that Queen song, I've been feeling it all the time!!!
The menu is simple and a little quirky—and while I'm sure there are people who swear by the egg salad sandwich, my go-to is always a Hickoryburger with cheddar, a side of fries, and a Coke (about $12 total). Classic in every respect. They do it like they've always done it—with way too much lettuce and a little too much hickory sauce—but it's always satisfying. The pies are supposedly to-die-for as well, though I've never partaken, since I have Multiple Pieloma.
If The Apple Pan were somehow one of those supposed "best-kept secrets" that don't actually exist in L.A., it would probably be one of my top haunts. I'd be here all the time, "working on my screenplay." But the rigamarole involved in eating here doesn't make me want to visit all that much. I'm always happy when I do, but overall I prefer my burgers without a side of fresh anxiety.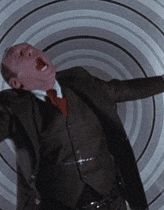 Review by Wimpempy Tarlisle, February 2014