El Tepeyac Café
812 N. Evergreen Ave, Los Angeles, CA , USA
Any discussion of real East L.A. Mexican food is bound to traverse El Tepeyac at some point. If I'm not mistaken, this place was serving hungry Angelinos even before the Mayans invaded and dominated the scene with their legendary Quetzalcoatl tacos—prepared authentically, mind you, by slow-roasting the fearsome serpant's meat for days with a light dusting of cumin.
The Aztecs never forgave them, and that's why to this day we still have the Doyer-Angel rivalry every grand-slammin' summer!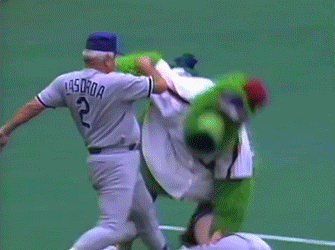 Perhaps my history is a little off. After all, I've just put an abundance of pork into my porky belly. Which is something you might do if you ever find yourself here.
El Tepeyac is probably most famous for "Manuel's Special," a nearly 5-pound burrito that supposedly can feed four people (or two Samoans). However, I was only in the market for enough food to feed one person … me, silly!
I went with the Mini Hollenbeck burrito and an horchata, $13.07 total.
Is it iconic? Sure! Is it unique? A little! Is it amazing? Ummmmm … let's just say it's tasty enough! Topped with simmered pork in a red chile sauce, it might be the wet burrito of all your wettest dreams. For me, it was … good!
A memorable enough meal, although I will say it's not one I ever wake up craving, like some of the other historic burritos you can get in and around Boyle Heights. One Mini Hollenbeck was all I needed to "get it" and move on.
Your mileage may vary, of course. Like that old children's song says, "We all have different burrito stomachs."
Review by Wimpempy Tarlisle, October 2016