Kye's
1518 Montana Ave, Santa Monica, CA, USA
First time I ever went to Kye's, I stepped out of my car and looked up, and who was walking toward me? Umafuckin'Thurman!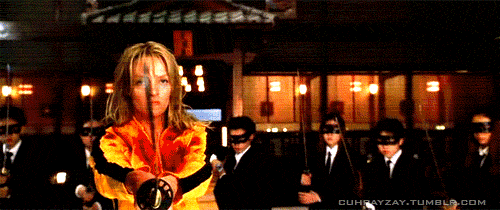 No swords or anything, but even so, she instantly reminded me of the disparity between Big Stars like her and Little Lumps Of Coal like me. 🤷
Oh well, we both can eat at Kye's if we so desire! Shall we?
Kye's is probably the most stereotypically "L.A." of the restaurants I frequent—it's almost irritatingly "positive" and health-focused, with a superfood-packed menu offering wraps, bowls, salads, boba teas, and so forth. The location is in a chichi part of Santa Monica that feels more like Brentwood, hence the Luxury Celebrity Sighting™.
The specialty here is "Kyeritos," basically wraps that handle like burritos but are filled with fresh, healthy goodness. My favorite is the "Taco," which does a damn good job of approximating a big-ass burrito for something that's wrapped in giant romaine leaves.
Other Kyeritos come wrapped in nori; some have meat, some are gluten-free … whatever your particular L.A. food OCD, you're in good hands here.
And I will say, you actually do feel good when you drop in to Kye's. It's infectious how pro-life they are here. Oh. Not in that sense! But that reminds me, if you're lookin' for Abortion Wraps, try the guy in the alley out behind the Planned Parenthood on San Vicente. He recently added multigrain to the bread options.
Review by Pauline Kale, October 2015