Top Round Roast Beef
1000 S. La Brea Ave, Los Angeles, CA, USA
Not to be confused with the disgusting Bottom Round Expired Raw Beef in Panorama City, nor indeed The Round Bottom Beef Hole in West Hollywood, Top Round Roast Beef opened up not too long ago, its throwback style instantly making the otherwise nondescript corner of Olympic and La Brea a lot more memorable.
Clearly their gameplan is zagging when everyone else is zigging, because just when you'd expect another diminishing-returns ramen joint, here comes Top Round serving up 1955-style roast beef sandwiches and frozen custard … 1955 being both the approximate year of culinary inspiration and your probable cholesterol count after eating here.
Not that I concern myself with such trivialities. As soon as I saw this place I knew I'd have to try it, so I popped a few extra Lipitors and headed on over as soon as my shift ended at Arby's. The Space Age décor is the perfect complement to the concept, although they're not slavish about it, because one of those fancy Coke Freestyle machines holds definite pride of place on the counter. So go ahead, pick your poison! Only seventeen sexdecillion possible poison combinations!
Speaking of sexdecillion, here's Sexy Cillian Murphy thinking about Top Round: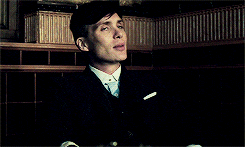 What do you think is his favorite? Beef On Weck? Horse And Hole? Beef And Cheddar? I happen to know it's Beef And Cheddar, because I ate here with him. I had the Horse And Hole (with "atomic horseradish") and we split the Dirty Fries (curly fries slathered in gravy and Provel® cheese).
I know what you're thinking … "Ooooooh, Dirty Boys gittin' them Dirty Fries!" But come on, it's basically poutine. Oh great, now you're thinking "Mmmm-hmmm! Jes' what I thought, a pair of Poo-lickin' Pou-tangers!"
Good thing we were too full to try the custard, 'cause lord knows you'd be callin' us a couple a' Gah Damn Cussies!
Review by Dr. Gargoyle, June 2013