Debbie Does Dallas (1977)
Directed by Jim Clark
Written by Maria Minestra

Debbie Does Dallas is a movie so famous I've actually seen it used as a clue in mainstream crossword puzzles (though, surprisingly, not often in "underground crossword puzzles"), yet I wonder how many people have actually seen it, I mean, outside of frat houses.

It is justifiably regarded as one of the most enjoyable classic porn films, and is notably good-natured throughout. It is also surprisingly inoffensive by porno standards, its central message being that girls can empower themselves (through sex, of course). But unlike most porn films (especially recent ones), in this one the women are portrayed as being in charge of their sexualities—in "charge" is right, seeing as they're charging their employers for sex!!!!

The plot, contrary to accepted popular mythos, does not center around Debbie "doing" everyone in Dallas. In fact, Debbie only "does" one person, in the film's "climactic" sex scene, and the movie is not set in Dallas. Rather, the story involves cheerleader squad captain Debbie Benton (played by Bambi Woods with the same sort of trainwreck-style awfulness that makes MTV's Jesse Camp so miserable, but Woods at least looks nice with no clothes on) trying to come up with the money for her trip to Dallas, where she is going to try out for the Dallas Cowboy Cheerleaders.
Her squad-mates are excited for her, and decide they should raise enough money for the whole squad to go to Dallas to support Debbie in her big success. The premise is laughable enough given that the scenes where these porn stars are (laughably) trying to do actual cheerleading remove any potential believability toward any of them, least of all Debbie, winning a spot on a Special Olympics cheerleading squad, much less the DCC. That and the cheerleaders' football-player boyfriends (trying but not remotely succeeding at playing high school boys – the moustaches being one of many give-aways) are the primary suspensions of disbelief here, but overall the film banks on portraying the fantasy scenario of high school girls offering themselves up for sale.
The girls form "Teen Services," a company designed to offer "what they'd be giving to their boyfriends for free anyway" (I'm paraphrasing), and have an intriguing discussion on the importance of establishing sexual boundaries, which actually succeeds in making the plot (somewhat) more believable and sending a cheekily positive message you don't expect to encounter in the world of hardcore cinema. Each cheerleader gets a job, and strangely enough, each one ends up working for an employer who wants to sex them up.
Debbie proves the most ingenious at maximizing her financial gain, letting sporting goods store owner Mr. Greenfeld advance with her sexually only in small degrees for increasingly high prices. Greenfeld (referred to alternately as "Greenfeld" and "Greenfelt" by the clearly drugged or just plain stupid Woods), played by Richard Balla, comes off as a highly comedic mixture of Woody Allen and Billy Crystal, and the scene where he finally gets to fulfill his mad desire for Debbie is very memorable, like that one scene in Citizen Kane, but with more boners.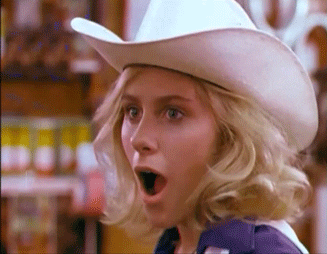 The movie is unusually bright and sunny, featuring lots of exteriors, and really only reinforces the idea that any teen comedy can turn to porn—usually this metamorphosis can hinge on one randy line ("There's something for everybody, and everybody likes something"). Aside from the explicit sex, Debbie Does Dallas is not too far off from a Porky's or Private School, not below using character names like "Mr. Hardwick" (who owns the candle shop, of course), and in fact there is no sex until about 10 minutes into the film (and it does at least purport to be a film, not just porn).
The performances are enthusiastic overall, with the cheerleaders in particular coming off realistically, mainly because almost none of them is very attractive (one looks disturbingly like Ricki Lake in her Hairspray days).
The underrated Arcadia Lake puts in the most charming performance as naive Tammy, who gets her sexual initiation in the record store. Some good quotes abound (my favorite is the probably ad-libbed "Baby, don't choke—stay alive," spoken by one of the so-called football players whose girlfriend inadvertently gags while giving him head in the library), and the sex is entertaining (except for a particularly creepy shower-room orgy that is as unpleasant to watch as it probably was to experience).
The soundtrack (music provided by Gerard Sampler—pseudonym of the century) is full of the expected cheesiness, including a song that crosses "A Whiter Shade of Pale" with "Pomp and Circumstance" for a wonderfully inappropriate grandiosity underpinning much of the sex.
In the end, Debbie gives it up to Mr. Greenfeld, who agrees to finance the entire squad's trip to Dallas in return for his back-room romp with Debbie (a detail that, as I see it, actually renders the other girls' prostitution unneccessary—but who's complaining?!!!!!!!!!!!!!!!), at which point, I would imagine, Debbie Does Dallas II picks up.
I haven't seen that one yet, but if it's half as fun and funny as the first one I'd predict it's a must-see. Maybe in that one, Debbie actually does "do" Dallas.
Review by Tom Trick